OPPT (One People's Public Trust)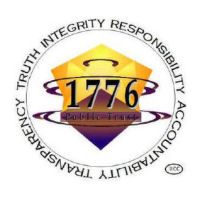 ♥

OPPT

♥





We have all forgotten that we were once a FREE person and have always been a FREE person. From now on, stand in your own strength Every person has his own choices for which you yourself are responsible.

You can think, act and live as a FREE person.

The OPPT has made this possible for us again. Now the execution of it, click on the link below for more info!

https://www.scribd.com/lists/4248558/OPPT-I-in-het-Dutch

If you want to understand what the "One People's Public Trust" (OPPT) means, it's a good idea to check out the following video first, (the first video that you'll see when scrolling down). This Australian story is not directly about the OPPT, but it shows exactly what the problem is with the current system, worldwide.

The bottom line is that the countries in which we believe we are living are actually companies. That sounds absurd, but it really is. The secret orders that control the world, such as the illuminati, have long since ensured that we no longer live in a free country, but in a corporation, where our rights and obligations are determined by only a very small group of 'managers'.

This is the case for the US, China, Australia, Brazil, Japan, South Africa, Great Britain and many other countries in the world (pdf document), all of which are listed on the American Stock Exchange. Although the Netherlands is not mentioned here, the situation in our country seems to be no different, because the State of the Netherlands is also listed on Wall Street.



A large part of the tax money that the citizens have to pay goes to this small group, which has now built up wealth that is almost impossible to imagine. Because they not only control the economic system, but also the judicial and political system, for example, and it was all installed before most of us were born, nowadays almost no rooster is crowing anymore. The monster has become "too big to see".

That changed last year, when a small group of go-getters revealed the exact operation of this system. Through the laws of this system themselves, they filed a claim of deliberate betrayal of the people and seizure of all property. The articles of association stipulate that a claim becomes legally valid if a counter-proof is not delivered within a certain period. This proof was indeed not delivered, because the claim was correct.

The old system has now actually been lifted. That you still get fines for traffic violations and receive letters from the tax authorities is because "the monster" has not yet wanted to leave. Despite the fact that those in power know what happened, because you can count on these types of claims not passing by unnoticed. The system that was already corrupt because it was against the interests of the people, has only become less lawful, because they now even violate their own rules.

Nevertheless, this OPPT caused them a sensation, because the fact that they had legally as well as possible sealed their system, indicates that they wanted to do everything as legally as possible despite their dubious intentions. Now that the legal ground has been swept away under their system, it seems to have become a matter of a big, spoiled child who does not want to give back his toy that he has picked off, even though he knows that it is not (anymore) his.

And that is where we, the people, look around the corner. Through petitions, letters, and if necessary, demonstrations, we can let those in power know that the game is out and that they have to move. Through the OPPT we have become free and from now on we are allowed to organize our lives completely ourselves.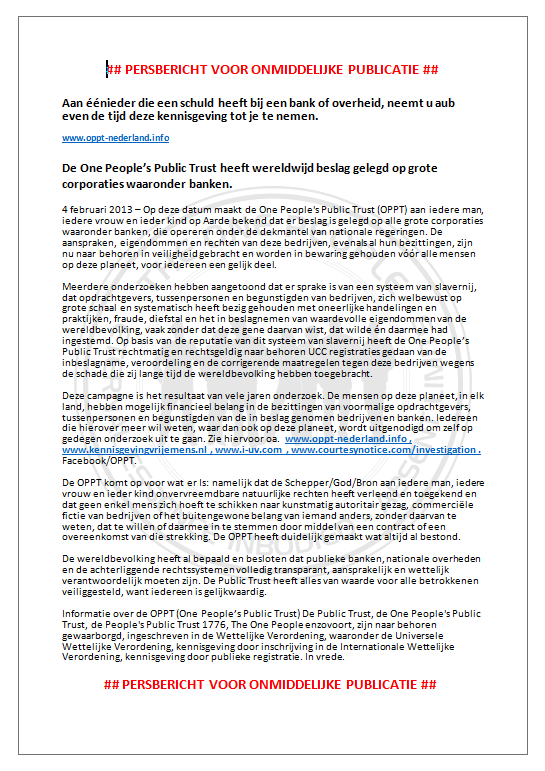 The following piece, in which everything is explained in more detail, is a translation of the article "One People's Public Trust Lawfully Forecloses Corporations, Banks and Governments for Operating Slavery and Private Money Systems" by Andy Whiteley.

Read more on the following website ► http://www.earth-matters.nl/11/7319/verborgen-nieuws/wat-is-de-enquotone-peoples-public-trustenquot-oppt.html

The OPPT (One People's Public Trust), now called IUV (I and the Universal Value), has ensured that there is nothing or no more between you and the creator / god / infinite intelligence etc. There are no more laws on earth . The only jurisdiction that still counts today thanks to the UCC filings from 2012/2013 is yours. See: i-uv.com

In short, that means: All People are Free of Debt Certified !!!!!!!!
AFTER 18 MARCH 2013 ALL DEBTS HAVE BEEN DELETED
(Refer Notice of Declaration of Absolute Truth UCC # 2013032035)


The last registration of OPPT took place on March 18, 2013. This document terminated ALL man-made entities and brought all people on this planet back to absolute freedom. In this document the source / creator is described as "absolute essence" and all people as "embodiments of absolute essence".
Article VI proclaims ... "I duly verify, with full responsibility and liability, by DECLARATION OR ORDER, that eternal essence IS made transparent and known by the DO of any and all embodiment of eternal essence in eternal essence's universe, IS free and free of debt, unrebutted. "


Various information about the OPPT:
https://www.scribd.com/lists/4248558/OPPT-I-in-het-Dutch
============================================================

The OPPT means that there is NO debt anymore ...
You no longer have any debt ...
Nobody is to blame ...

It is done !!!!!!

============================================================